I know I haven't posted as much as I would hope... Let's make sure that tax season is done and over with, then I'll be able to relax afterwork and play with my stuff, lol!!! Just too exhausted to stay up past 8:00pm. Monkey goes to bed and I do to with a glass of water and my laptop, hence the MDS projects!
On with today's card... I saw
THIS CARD
and just knew that I wanted to make my version of it...
The original version used the Bliss stamp set and what looks like Shimmer paint and different techniques... I just love it.
Mine, a lot less messy (especially when you create in bed... nothing dirty about it, okay enough;). I used the Strength and Hope digital brush set and similar colours. Tweaked a bit of this and a dab of that and voilà!!!
TTFN!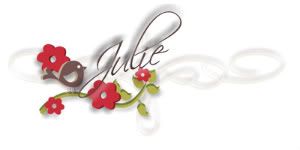 Now, I will turn this off and go to sleep... My eyes are really tired of looking at computer screens... See you in a few days!