So today, I'll get some of my cards ready for my February and March Stamp-a-Stack classes...
Q: But How can you do this Julie? Shouldn't you be at work?
A: Well yes, today is a PD day but I goofed, missed my chance to get him in for the full day at daycare and have no one to look after my monkey. So, I am using a vacation day :-( (I like weeks off better than a Wednesday, grrrr). It would be tons of fun if we could have 'real snow'... you know the kind that stays for more than 20 minutes, lol!!!
Anyhow... here is another card from a swap received at Leadership... Hope it gets you inspired :-)... I should have taken a picture of Lesley Poper's scrapbook page made with this same piece ;)
Happy Creating and always remember to have fun!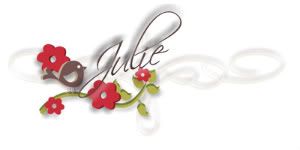 My tool box :-)
Contact me today to get yours -n- get a permanent $5 discount on ALL of my classes for the next 12 months (that is worth at least $60 off your classes!!! Wow! ).