Thank goodness for these lovely ideas! I just need a change of pace and when I need to "Change" something, it usually needs to happen NOW!!!
So about 10 months ago, I bought paint for the living room in my house, well guess what, I couldn't remember what coulour it was... Well, I new I picked a 'brown' but which one? So, here I am at 3 in the afternoon, in old clothes and 'bam' I started painting. Ooopsy, I am really hoping that this will dry in a more lovely brown, (darker) less pukey and warm tone :-)... Only time will tell. One coat on one wall (in case I don't like it anymore then we will either keep going or go back to the store!)...
Now one lovely card from leadership... this one is from Diana Huong. Picture doesn't do it justice. The top layer has shimmer all over it! Very nice!
Happy Creating and always remember to have fun!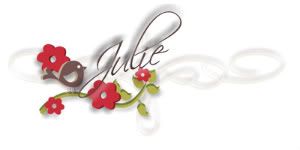 My tool box :-)
Contact me today to get yours -n- get a permanent $5 discount on ALL of my classes for the next 12 months (that is worth at least $60 off your classes!!! Wow! ).