I am skipping it... I found out that company is coming and need to tidy up. I had 2 sick guys and they were condemn to the back of the house :-) It worked, lol!!! I survived without a sneeze. So now, got to move everyone back in the proper rooms (all is clean, just need to make the house pretty)... In the mean time, remember the routine :-) Say hi and hop on over to the other ladies that created to get you inspired!
You can still enjoy a bit of this week's theme by looking at this banner... It was inspired by this month's "holiday!!!" and 100% MDS :-)
Remember to take the tour!
1.
Jeanna Bohanon
2.
Rochelle Gould
3.
Mandy Grant
*. Julie Leblanc ...Yup, you're here
Alesha Walls
11.
Holly VanDyne
Happy Creating and always remember to have fun!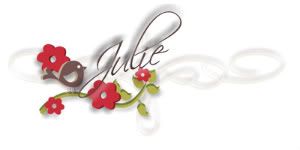 My tool box :-)
Contact me today to get yours -n- get a permanent $5 discount on ALL of my classes for the next 12 months (that is worth at least $60 off your classes!!! Wow! ).