Hello ladies and Happy Friday!!!
As usual, my 2 minutes announcement: Tonight I will be at the "Francofête" at L'Ecole L"Odyssée here in Guelph Ontario... Come by and say "Bonjour" and do a quick card for free... I'll be there from about 5:00 till I run out of supplies ;) There will be rides, Lick's Burgers will be on site for those of you that feel a bit hungry... It's a celebration!!!
...This week, the gals created a project around a "Celebration"... So, in my case, I am secretely working on a wedding album and plan on having it completed and printed before my 10th wedding anniversary this October... Now, All I need to do is stay focused, lol!!!
So this is one of the pictures from our Wedding Celebration ... Back in 2002 :) Ahhhh, to be that young again ;)
So now... remember the routine :-)
Have fun!
1.
Jeanna Bohanon
2.
Rochelle Gould
3.
Mandy Grant
4.
Julie Leblanc...(Here you are)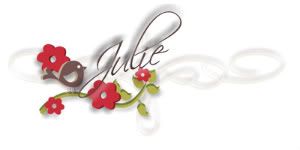 My tool box :-)
Contact me today to get yours -n- get a permanent $5 discount on ALL of my classes for the next 12 months (that is worth at least $60 off your classes!!! Wow! ).