Happy Monday everyone.
Today I will share with you the 'other versions' of last Friday's WOW card class (ran out of fabric Flowers and other retired supplies, lol!)... Still made it pretty and it worked :-)
Once my group of wonderful ladies left, I decided to finish up and assemble some more cards with whatever I have left... Yes I always cut extras... Just in case of, well a friend tags along, or ooops, I spilled my coffee on my goody bag ;)... we never know right? I just love being ready, that's just me!
So these cards used the Spice Cake DSP that was available in the last Holiday Mini that expired in January; I was so hoping that it would be back :-(. At least, we still have the matching fabric! Soft Suede, Pool Party, Confetti White (retired) Colour Combo, Paper Flowers, Vintage Brads, Dimensionals, Framed Tulip embossing folder, Big Shot and the Creatively Yours Stamp set.
Happy Creating and always remember to have fun!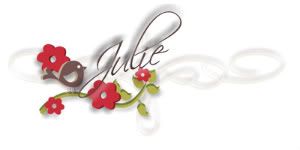 My tool box :-)
Contact me today to get yours -n- get a permanent $5 discount on ALL of my classes for the next 12 months (that is worth at least $60 off your classes!!! Wow! ).