Yes I do that too!!! If you have a special request, I'll make you a card for it... just keep in mind that I need to find an idea and then create :-) Plus, it has to reach you too, lol!!!
So this one is for a co-worker's sister and this person, lives in another province so most of this requesting happened over emails, lol!!!
All I got to help me get started is... she likes brown and turquoise...
Now, the picture with the Sentiment is the front of the card and the second is the inside.
I used the Everything Eleanor and Perfectly Penned stamp sets, Crumb Cake, Chocolate Chip, Tempting Turquoise and Whisper White Colour Combo, Beautiful Wings embosslits, Adorning Accent edgelits and matching embossing folder from the Adorning Accents folders set, Big Shot, First Edition DSP, sponges, Chocolate Chip Scallop Dots Ribbon, Smootch Spritz, Jewels (pearls), Dimensionals and adhesive...
Until tomorrow :-)Happy Creating and always remember to have fun!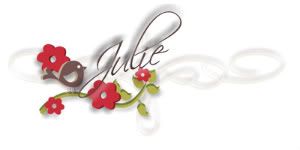 My tool box :-)
Contact me today to get yours -n- get a permanent $5 discount on ALL of my classes for the next 12 months (that is worth at least $60 off your classes!!! Wow! ).