This is one of the surprise project that I have prepared for my guests...
These were inspired by Madonna Dunn. I kept creating using the left over pieces of the Merry Moments Simply Scrappin kit... remember, only 1/2 kit can get you a lot of projects... They will all go home with 15 cards, this tag surprise and ... Well I'll post the other surprise this afternoon ;) Just in case some of the gals coming today peek here before joining me ;) I still want them to have a surprise, lol!!!
On display, a scrapbook using the other half of that same kit... Retired stamp set sale table, and lots of food...
Happy Creating and always remember to have fun!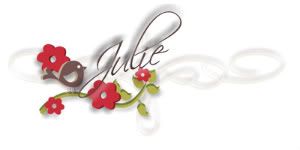 My tool box :-)
Contact me today to get yours -n- get a permanent $5 discount on ALL of my classes for the next 12 months (that is worth at least $60 off your classes!!! Wow! ).