Since I am getting ready for a craft show in 2 weeks... I am working really hard at 'letting go', lol!!!
And for all of you crafters out there, you know exactly what I am talking about... I bought "IT" because it was soooo pretty and never convinced myself to use it simply because, well let's face it... I didn't want to cut into it ;)
So this week end, I progressed a little bit (only 2 sheets of DSP used) but it's better than none, oh, and I did use some that that ribbon that I had been hoarding too!!!
These are gift bags... I covered the front and back of a white paper bag with DSP, punched then handle hole with the Oval punch, glued down a clear SU envie after cutting off the adhesive part, created a card with the left over portion of the DSP sheet and stuck it in the clear envie!!!
Voilà!!! A $3 gift bag or 2 for $5... hope I sell all those I made ;)
Happy Creating and always remember to have fun!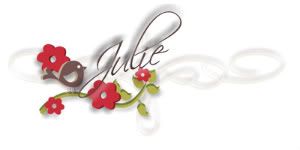 My tool box :-)
Contact me today to get yours -n- get a permanent $5 discount on ALL of my classes for the next 12 months (that is worth at least $60 off your classes!!! Wow! ).