I'm Paper Pumpkin . . .
I come to your door each month (a fully decked-out creativity carriage). I'll help you to escape your life with some paper fun.
I come in a sweet box, but you'll really love what you find on the inside: All the stamps, ink, paper, and accessories to create pinable projects. Create stuff like cards, journals, décor, and more!
Paper Pumpkin by Stampin' Up! is a new monthly kit program that anyone (even you) can enjoy! Get Started It's so easy to get started.
Simply sign up for the program starting Monday, January 14 by visiting www.mypaperpumpkin.com and click Get it. (Make sure to select me as your demonstrator when prompted)
Every month a new, surprise project kit arrives at your doorstep. Just think of the anticipation of creating a fun project to pin, showoff, and share with your friends and family-every month! Of course, you'll want to know more.
So here's the nitty gritty: Each month we send you a unique, surprise kit with a project-cards, journals, décor, and more! (It's even colour-coordinated, measured, and cut everything for you!) Each kit includes stamps, ink, paper, and accessories-everything but adhesive.
Each kit gives you and me a 30-minute creativity escape. Your Paper Pumpkin will ship on or around the 15th of the month. You need to sign up for a kit by the 10th of the month to get that month's kit. If you sign up on the 11th of the month, your first kit will come the next month.
(Let's say you sign up on May 10th, we'll send your kit around May 15th. If you sign up on May 11th, we'll send your first kit around June 15th.) A Paper Pumpkin membership is $24.95 per month (and shipping is included!).
There's no commitment, you can cancel your monthly Paper Pumpkin at anytime. You can also skip a month if you want. Starting in early March, we'll offer a Try-It kit if you'd like to try Paper Pumpkin for one month.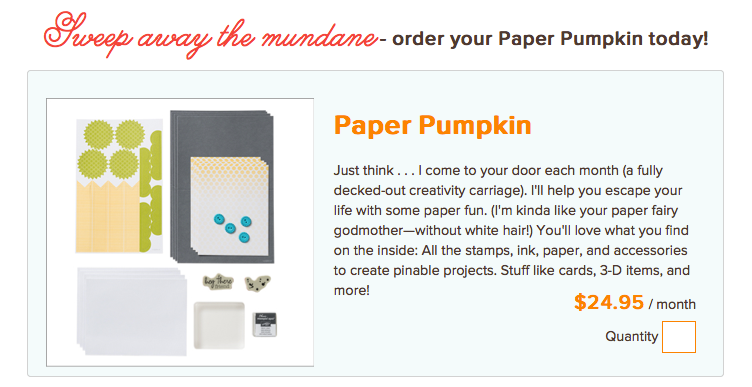 Don't know about you but I am just going to have to try this!!! What if I added as an incentive a "FREE CLASS", we could all get together once a month and put those little pumpkins together and have a girls night out!!!... How can you say no to my sweet face, lol!!!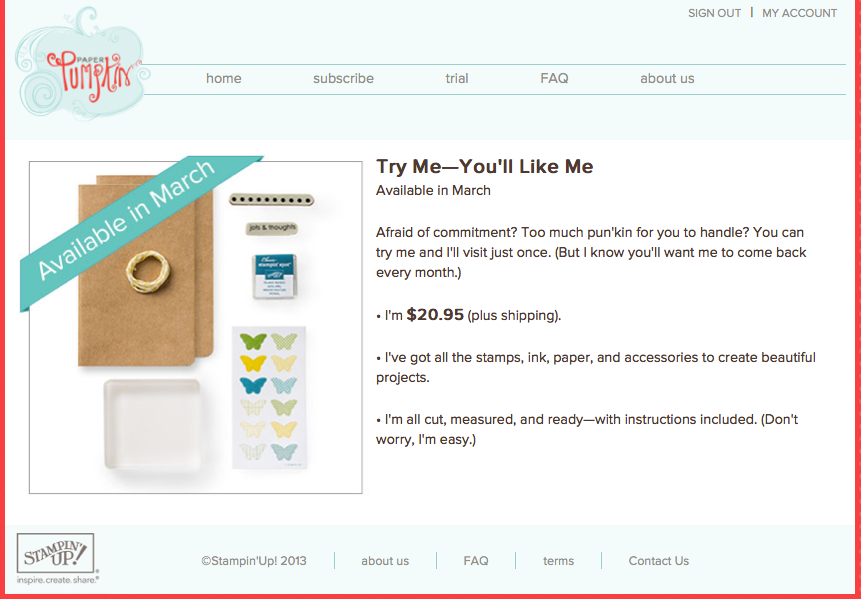 This is the welcome page for you to snoop around. It loo

ks really "Kewl"!!!
Read on:
FAQs
Q: How can I learn more about stamping?
A: You can
visit the Stampin' Up!
website to learn more. If you would like to get in touch with a creative coach who can help you get started, click on the button that says, "Find a Demonstrator". (make sure to pick me, lol)
Q: When Will I Be Billed?
A: Your credit card will be charged as soon as your Paper Pumpkin ships. You will get an e-mail notifying you that your card has been charged.
Q: What comes in my Paper Pumpkin?
A: It's a surprise each month—anticipation for the surprise is seriously half the fun! No worries, though, you'll have everything you need to complete the project: paper, stamps, ink, accessories, and more! (You will need adhesive.)
Q: Is my subscription on auto renew?
A: Yes, your subscription is on auto renew. However, you can skip a month or cancel at any time. Simply log on to your account on
www.mypaperpumpkin.com
and click skip a month before the 10th of the month in order to skip the Paper Pumpkin for that month. If you click skip a month on the 11th of the month, you will receive that month's Paper Pumpkin and not receive the following month's Paper Pumpkin.
Q: When do I need to sign up in order to get my Paper Pumpkin for a specific month?
A: You need to sign up by the 10th of the month in order to receive your Paper Pumpkin for that month. If you sign up after the 10th―no worries! You will get your first kit the following month. You'll know your Paper Pumpkin is on its way when you receive your shipment confirmation e-mail.
Q:It asked me if I have a demonstrator—what is that?
A:A demonstrator is a super cool creativity coach that sells Stampin' Up! products. We'll give you the option to choose a demonstrator when you sign up for a membership. You're definitely going to want one. But you can still join without selecting a demonstrator.
Shop Now

: Click here... my store is

Open 24/7

and have it

shipped right to your door!
Stamping Hugs...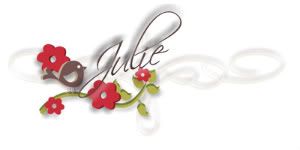 My tool box :-)
Contact me today to get yours -n- get a permanent $5 discount on ALL of my classes for the next 12 months (that is worth at least $60 off your classes!!! Wow! ).