Here is a simple card...

Layout, minimal supplies and time to make this... just awesome!
The reason for my choice is simple. I have lost my father in law just before Christmas and it feels like every where I look,

we are gaining angels at the speed of light. Not really liking the feeling. So to all of you out there that have lost someone dear to you... I am Sorry.
I have my family visiting and tried to make a video... I do have the visual but sound... Oh my... Dogs barking, kids screaming at the dogs

barking

, music in the back ground, Wii playing... name it, it's all happening while I am recording. I am really tempted to just upload it as is... and maybe I will, hmmm!!! (to be continue

d...)
On this note... I hope you all had a good new years' day!
Shop Now

: Click here... my store is

Open 24/7

and have it

shipped right to your door!
Stamping Hugs...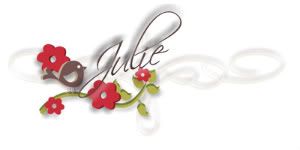 My tool box :-)
Contact me today to get yours -n- get a permanent $5 discount on ALL of my classes for the next 12 months (that is worth at least $60 off your classes!!! Wow! ).